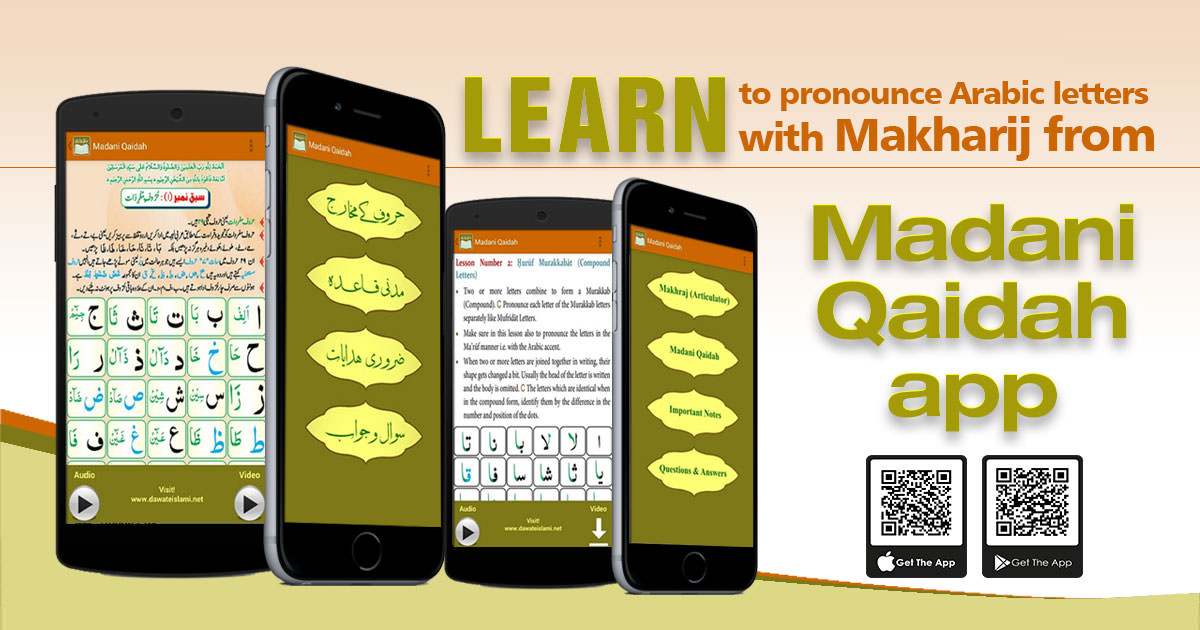 Madani Qaidah Mobile Application
Learning Quran and reciting it correctly is compulsory for all Muslims. In order to improve your recitation of the Holy Book, the I.T. department of Dawat-e-Islami, a non-political and non-profit organization, presents its Madani Qaidah mobile application for Quran learners. This application will help you learn the Glorious Quran with proper tajweed rules and haroof e tahaji guidance. The app is easy to access and has a user-friendly interface. It has a number of features such as video lessons, audio lessons, important notes and question answers and so on. Furthermore, it is bilingual with English and Urdu Qaida so most people can understand and improve their Quran pronunciation. So, if you want to hone your Quran skills get the app now and begin learning the right recitation of the Holy Quran.

Arabic Articulations
In terms of Tajweed, the articulatory organ of an Arabic letter is called Makharij. It is a good systematic way to learn the Arabic language.

Video Lessons
To enhance your understanding and keep you engaged, several recorded video lessons are available for your guidance.

22 Chapters
This app teaches you like a physical Quran tutor with clear sound and pronunciation of each letter, and it is based on 22 easy lessons.

Important Notes
In this section, the importance of proper pronunciation of Arabic letters and the consequences of wrong pronunciation have been highlighted.

Bilingual Languages
The app supports 2 languages, i.e. English & Urdu. The benefit of this app being bilingual is, it will help you learn Quran pronunciation.
Share
You can share the app link to Facebook, Twitter, WhatsApp and different social media platforms without any difficulty.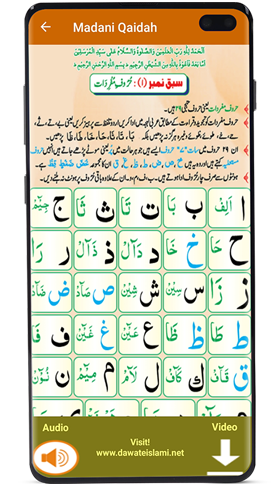 Word by Word
With the word by word option users can listen to each word for the correct pronunciation. All the Qaida lessons have this feature so you can easily improve your Arabic pronunciation.
Questions & Answers
All questions that could come to your mind regarding Quran pronunciation have been answered in this section. You can read the questions and answers related to tajweed and Makharij.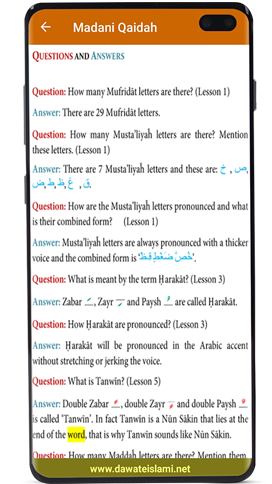 In order to learn the proper pronunciation of Arabic letters with Makharij & Tajweed rules download the app now and persuade others to make the most of it.
Copyright © by I.T Department of Dawat-e-Islami.